Nature's Comfort Wool Products
Our 30-Day Better Sleep Protection Plan
If, for any reason, you're not 100% satisfied with your Nature's Comfort product, you may return it to us for a full refund of the product price under our 30-Day Better Sleep Protection Plan. Please contact us for a return authorization. Product must be returned in both original container/condition.
Any products damaged beyond normal wear will not be accepted for return. All returns must be shipped prepaid. We will not accept C.O.D. for shipment cost. Product must be delivered to The St. Peter Woolen Mill, 101 W. Broadway, St. Peter, MN 56082 within 30 days from receipt of delivery.
Please contact us to order and inquire about pricing.
Custom Wool Processing Services
Wool Batting
Order custom-processed, lightweight, thin batts for custom hand quilting (quilt up to 3″ apart). Thicker wool batts for hand tying comforters are also available. This wool batting can be stretched carefully for extra inches. Wool batts are all made in one large piece and rolled with paper between the layers for easy unfolding on your quilting cloth. Crib-sized wool batt must be cut from a regular wool batt. King-sized wool batt is 1 ½ wool batts laid side-by-side.

Custom Carding and Recarding of Wools & Acrylics for Custom Processed Quilt Batting
We offer wool that is custom-processed for hand spinning, felting or weaving. In custom washing of new fleece wools, weight loss may run from 50-60% or more. (Figure usually 2 lbs. of raw wool for every 1 lb. of finished wool product.) Every customer gets back their own wool in wool batting. We will custom card the wool into batting from 1 ½ lbs. up to 5 lbs. (If your wool is less than 1 ½ lbs., it is sent to our custom woolen mill where we add wool to make the minimum recommended weight for size.)
Sometimes old quilt wools are matted or the fiber isn't long enough to be custom recarded without the addition of new wool. In those cases, we will add the necessary wool and charge the customer the same amount. Old woolen batts are usually dusty and may lose up to one-fourth their original weight in custom washing and custom recarding. We will add new wool to those lots with loss to bring them back to their original weight or the recommended weight for size ordered.
Mohair, Llama and Exotic Fibers must have wool added to be custom carded (approximately 1 lb. wool to 3 lbs. fiber). Wool sent must be properly washed, free of all animal grease, dust and dirt, or we will rewash it and charge the customer for the rewashing. Be sure to remove all taglocks and manure from new fleece wool. Remove all old coverings.

Custom Covering Services
Custom mattress pad covering (your wool in a 100% cotton ticking with corner elastic and machine tufted for stability)
Custom comforter coverings
Custom duvet covers (with zipper)
Fabric samples and prices available upon request. Covering your batts in light cheesecloth will make handling of your wool batts much easier for quilting or tying of your outside covers. We can cover your wool (or wool you've purchased from us) in cheesecloth or a finished outside covering. Tying yarns are included in the price of cheesecloth (or outside covering with our yarn) and your choice of color.
No covering will be done in used materials. Outside covering in your new materials is acceptable and encouraged. (CAUTION: Wool may creep through fabric blends with polyester. 100% cotton fabric is preferred.)We can custom stitch your comforter in several patterns: Shell, Wavy Diamond, Hour Glass, Cloud
* All duvets stitched in 5″ Channel., **Cheesecloth covered batts will fall apart if slipped into duvet covers., ***All non-bonded batting to be stitched must be covered with cheesecloth.

Custom Pillows and Machine Quilting
Your wool made into pillows – for $22.50 each! (Includes cotton ticking and labor.)

Our Guarantee All custom work must be satisfactory to the customer or we will make it so. All prices quoted herein may be changed without notice. Effective March 1, 2019, this list supersedes all others.
Please contact us to arrange for services and inquire about pricing.
Customer Testimonials
Home and Gardening
"You have a very informative and well-designed web page and you have used an effective way of getting your message out to us consumers! I recently completed my son's quilt made with Nature's Comfort Wool Batting and plan to use wool again – it is wonderful to quilt with. I didn't , however, know that wool has so many other advantages. Thanks"
Home and Gardening
"I am writing to tell your company that I am pleased with the bedding items I received last week. I have the deluxe mattress pad, comforter, and pillows. I never thought that wool would have had such heating properties. I know that may seem stupid of me, but I am very impressed! It has been such a joy to go to bed and know that it will be so luxurious!! The 64oz comforter is so warm and comfy as is the mattress pad. The pillows are great too!! Thanks so much for making life so much better!!"
Home and Gardening
"I want to express thanks and appreciation of the wonderful job you have done for me three different times through the years, with the wool I sent to you. Wool is so wonderful!! I so appreciate the wonderful soft wool, carded and smooth, that you send back to me!!"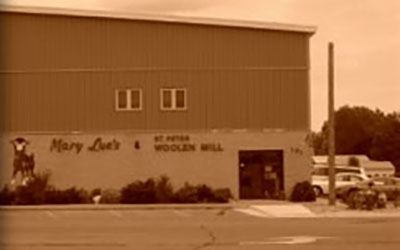 Visit one of the oldest woolen mills in America!
We invite you to come see history in the making and learn how wool is processed. Group tours are available by appointment: 1-800-208-9821