Before there were telephones, cars, computers and assembly lines, there was St. Peter Woolen Mill, one of Minnesota's longest-running family-owned businesses and one of the five oldest wool processing mills in the country. We're also a certified organic wool processing mill.
We specialize in:
Wool washing. We wash greasy raw wool and card into batting for use in comforters, mattress toppers and pillows. We also wash and card natural colored and dyed wools for custom hand spinning, needle felting and other crafting projects.
Wool products. We manufacture for wholesale our own line of wool-filled comforters, mattress pads/toppers and pillows called "Nature's Comfort." We also make the same products for wholesale with a private label for many stores and distributors. See our list of retailers below to find one near you.
Wool tying. We can either hand tie or machine stitch these coverings on to the batting. Many of our customers have their batting covered in cheesecloth, tied about every 12 inches to stabilize the batting, and returned to them so they can tie their own comforter.
Wool re-carding. Bring in or send your old wool-filled comforter, mattress topper or pillow and we'll re-card the wool, putting a new covering on so that it's ready to use for another 10-20-30 years!
Since 1867, the St. Peter Woolen Mill in St. Peter, MN has provided our customers with the highest quality eco-friendly products and services at a competitive price. Our luxurious wool-filled comforters, mattress toppers and pillows have been refined through four generations of family (and counting). We aim to promote the value of traditional wool bedding with an emphasis on renewability and sustainability.
From our family to yours, thanks for visiting the St. Peter Woolen Mill!
"In recent years, there has been a return to natural things. People want natural food, clothes, and bedding. Green, sustainable, renewable, recyclable, organic — all of those keywords apply directly to what we sell. We're doing the same thing my great-grandfather was when he started here in 1912, and the same thing the original owners were doing in 1867 — turning wool into quilts. Just like the story of our mill, much of the wool we reprocess has been passed down from one generation to the next."
– Pat Johnson, 4th Brinker Generation Family
Find a Retailer
A growing number of independent retailers sell the Nature's Comfort line of mattress pads, pillows, and comforters from St. Peter Woolen Mill.
Customer Testimonials
Home and Gardening
"I'm not sure what I can recommend to improve your services because I had such a good experience with my purchase. Your website was easy to use, the product shipped promptly, and I absolutely love my mattress pad. I originally bought the pad to use on top of my airbed while camping, but I put it on my bed at home when I first got it just to 'test it out,' and its been there ever since. 🙂 I guess I should buy another one for camp."
Home and Gardening
"The comforter that I ordered is simply a natural beauty that immediately gave the room the look of a fine Bed and Breakfast! I was delighted! But the best was yet to come! Sleeping under it is great! I'm no longer weighted down by enough blankets to keep warm! The wool-filled comforter keeps me the right temperature all night no matter how cold it is in the house! This comforter is something I will treasure! Thank you so much!"
Home and Gardening
"I wanted to drop you a line to thank you for the lovely wool batting I purchased about a month ago. I bought two very nice sheets at the thrift store and quilted it into a comforter for my bed. The batting is so soft, light and warm! I've showed it to many neighbors and friends and have highly recommended your shop and website. Thanks again."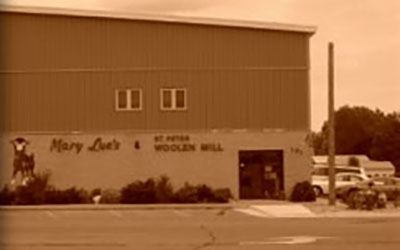 Visit one of the oldest woolen mills in America!
We invite you to come see history in the making and learn how wool is processed. Group tours are available by appointment: 1-800-208-9821